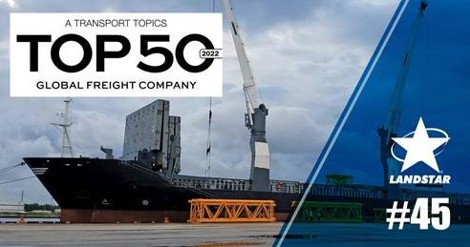 Landstar System, Inc. is ranked No. 45 on the 2022 Transport Topics Top 50 Global Freight Companies list. The annual list was published by Transport Topics in November.
Landstar services span the globe, providing customers with customized transportation solutions via land, air and sea.
According to Transport Topics, the Top 50 Global Freight Companies list provides an updated annual snapshot of the world's largest freight transportation companies across all modes, from truck and rail to ocean and air cargo. The list ranks companies based on full-year revenue from freight operations in the previous calendar year. New this year, the list now includes not just asset-based carriers that move freight with their own vehicles, vessels and equipment, but also third-party logistics companies that serve as intermediaries. As a result, several major freight brokers, international freight forwarders and global logistics providers, including Landstar, made their debut on this year's list.
Transport Topics is a multi-channel media outlet for decision makers in the trucking and logistics industries.