Landstar Recognizes Contributions from Longtime Safety and Technology Executives with Highest Achievement Awards
Landstar awarded two longtime employees with the company's highest achievement awards at its 2022 Landstar Agent Convention.
Jeffrey C. Crowe-Robert E. Zonneville Lifetime Achievement Award
Mike Cobb received the Jeffrey C. Crowe-Robert E. Zonneville Lifetime Achievement Award. The honor, first presented by Landstar 28 years ago, is awarded to an employee who not only succeeds at Landstar but also helps others succeed along the way.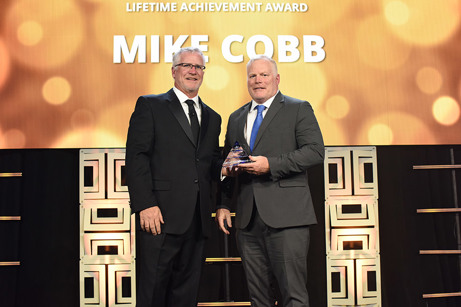 Cobb joined Landstar in 1992 as a maintenance coordinator in the trailer department and worked his way up to vice president of safety and compliance in 2014. Under his leadership, participation in and awareness of Landstar's safety programs has continued to grow within Landstar's network of independent agents and truck owner-operators leased to Landstar, which the company calls business capacity owners (BCO). Earlier this year, after 30 years of service as a Landstar Transportation Logistics employee, Cobb left his corporate position to join an independent Landstar agency.
"Mike has served Landstar and this industry well as a safety professional. He's been instrumental in helping to build Landstar's industry-leading safety culture. Mike has participated in countless safety meetings and calls with BCOs, agents and customers and had led our Safety Thursday Conference Calls for the past 5 years.
Mike has also served on numerous transportation boards and earned many awards during his career, including the Distinguished Service to Safety Award – the highest honor awarded to individual safety professionals by the National Safety Council," said Landstar President and CEO Jim Gattoni. "We thank him for his long-standing commitment to safety and this company, its customers, agents and carriers."
Landstar Outstanding Management Achievement Award
Landstar Transportation Logistics Executive Vice President of Business Intelligence & Strategy Jim Applegate was honored with the Landstar Outstanding Management Achievement Award. Landstar senior management nominates candidates for this award based on effective leadership, managerial skills, contributions, efficiency and productivity.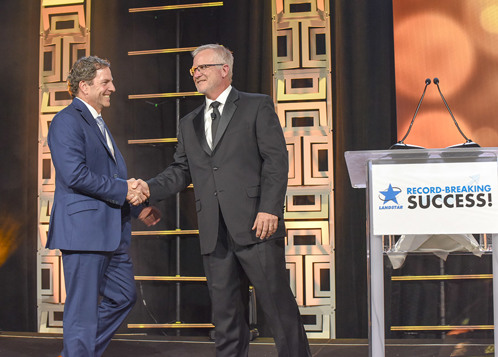 Applegate joined Landstar in 2009 as part of Landstar's acquisition of National Logistics Management Co., where he was responsible for delivering integrated transportation and distribution programs for the automotive industry. In his current role with Landstar, he is responsible for corporate strategy development, strategic portfolio oversight, implementation of strategic technology initiatives and the delivery of business intelligence tools and information. His oversight has been a critical component of the development of Landstar's newest digital technologies and applications.
"Jim keeps his eyes on the future. He is always looking ahead – three, five, 10 years or more – at Landstar, our competitors and the industry to ensure we're thinking and acting strategically not just today but for success in the years to come," said Gattoni. "He has made it his mission to empower Landstar agents and BCOs by providing the resources and technology they need to succeed in our industry."