Landstar Transportation Logistics maintains its long-time No. 1 spot among North American specialized transport companies
Landstar Transportation Logistics, Inc. continues to maintain its No. 1 ranking on the American Cranes & Transport (ACT) 2022 ACTtransport50 list. The magazine's annual ranking of North America's largest specialized transportation companies was published in December.
Landstar is a recognized leader in over-dimensional and heavy haul freight transportation services and one of the largest platform carriers in the U.S. with a fleet size of 14,740 and a total capacity of 75,905 U.S. tons.
According to American Cranes & Transport, the ACTtransport50 is ranked by fleet size and then by total maximum transport capacity of all relevant trailers and transport systems in a company's fleet in U.S. tons. The ranking is based on information supplied through the ACTtransport50 survey form.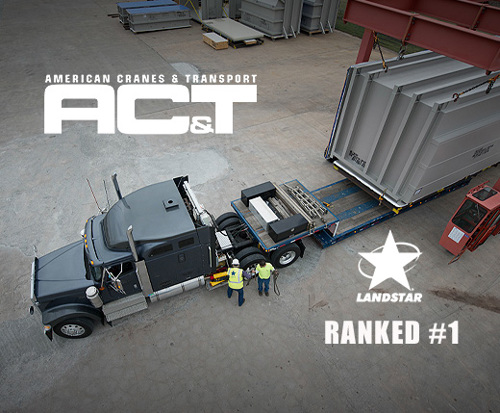 American Cranes & Transport is one of the leading publications for North America's crane and specialized transport industry.