Mission Dream Chaser® - Giving a Spacecraft a Road Test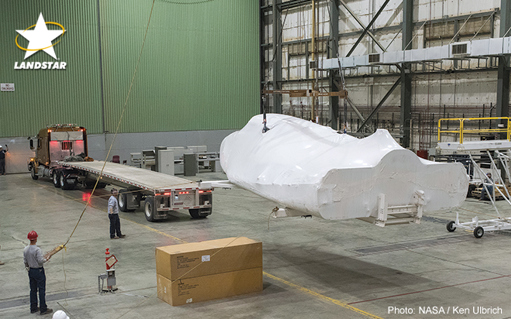 You may have dreamed of a day where you get to buckle up and take a ride inside a spacecraft. But now, you don't have to imagine it – a real SUV (space utility vehicle) is already being tested. The reusable, multi-mission space utility vehicle capable of transportation services to the International Space Station and other low-Earth orbit (LEO) destinations is a reality. The Sierra Nevada Corporation's (SNC) Dream Chaser® spacecraft is being developed to transport crew and cargo to and from space.
But, before it can make its first delivery, there are still a few years of testing ahead. And before that, there was the "road test." Not the runway test – Dream Chaser is capable of landing on a variety of runways. The "road test" refers to the ground transport of the spacecraft from Louisville, Colorado, to NASA's Armstrong Flight Research Center on Edwards Air Force base in California. Looking for a safe, reliable and smooth ride for the spacecraft, SNC turned to Landstar to give its futuristic spaceplane a lift.
Preparing for Takeoff
Seasoned in coordinating the transport of high-security freight, independent Landstar Agent Lori Brackus at CJXL Transport (LPB agency) in Conifer, Colorado, started planning for the spacecraft's move months in advance.
"I secured the services of a Landstar business capacity owner (BCO) who has years of experience with heavy/specialized transports," says Brackus.
Independent Landstar BCO Andy Freeman, who leased on to Landstar in 2007, has spent much of his career as a heavy-haul driver and knows the ins and outs of transporting high-value, confidential shipments.
"Together, Freeman and I worked closely for six weeks with the customer to find the best ways to meet the requirements of this unique load," says Brackus.
The next step was to find the right flatbed trailer to haul the 16-foot wide, 30-foot long Dream Chaser behind Freeman's 2014 Freightliner Coronado SD122. Freeman's truck, and the Landstar trailer were key to ensuring the customer's requirements for a smooth and safe ride, which included security and tracking. The truck's surveillance cameras, part of Freeman's normal operations for heavy/specialized moves, were required for the Dream Chaser haul.
"I have five cameras on my truck," says Freeman. "Those cameras capture what is happening around my truck and trailer at all times. If we are stopped for a break, the cameras are still rolling on my truck and the load."
Adding another layer of security, Freeman also operates with GPS tracking. The tracking gives the customer a way to check the status of its freight from any location.
"Shipment tracking eases the customer's mind. The customer can look any time to get a rough location of the freight. It's an added security blanket and something this customer required," says Freeman.
With the customer's needs met, the owner-operator readied his team of escorts for the haul, then made a call to the experts in Landstar's heavy/specialized department.
"The back office support Landstar gives to BCOs helps provide the best service to the customer," says Freeman. "In this case, it meant Landstar worked with officials in each state to secure permits and verify the travel route for the haul."
All Systems Go
Landstar's heavy/specialized department helped to secure permits in five states, while collaborating with local authorities in each of those states to verify permission as Freeman and his escort convoy traveled.
"The goal for heavy/specialized moves is to always find the safest routes to travel while maintaining public safety," says Freeman.
"For the Dream Chaser we had five vehicles involved – my truck, two pilot escort cars, an RV, so the customer could ride near the freight, and a third pilot car provided by SNC we called the 'puddle jumper,' used to move freely around the load when needed." Freeman explained each of the pilot vehicles were key to keeping the freight and public safe throughout the six-day trip.
Next Stage
One week after departure from Louisville, with the spacecraft covered and secured on the trailer, Freeman and his convoy arrived at NASA's Armstrong Flight Research Center for delivery. There, the Dream Chaser was lifted by crane off the flatbed trailer and readied for its test series.
The testing at Armstrong in 2017 validated the spaceship's aerodynamic properties, flight software and control system performance. The Dream Chaser is set to deliver cargo to the International Space Station starting in 2020 and fly at least six cargo delivery missions to and from space by 2024. The vehicle currently being built is for cargo purposes, but SNC has the capability to build a version that can hold up to seven crew members.
For more information on Landstar's services, request a quote here.