Interview with the 2021 Deliver to Win Truck Winner
On this episode of The Road to Success® podcast, we hear from 2021 Landstar Deliver to Win truck winner Mike Lamb about what it feels like to win a brand-new 2022 Kenworth T680 truck and the impact it will have on his business.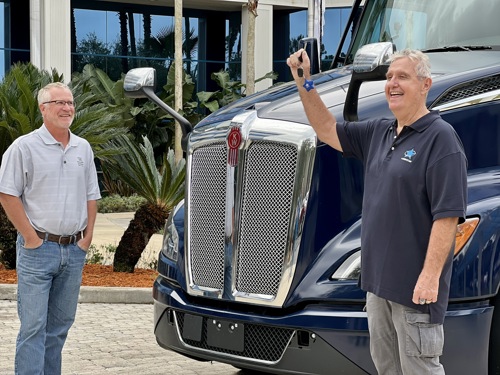 Lamb is an independent owner-operator who leased on to Landstar with his son. Listen as he shares the
 excitement of the night he won as well as his experience about starting his business.
Stay tuned until the end of the show because Lamb isn't the only one excited about what's next in the transportation business. We also hear from a few independent Landstar agents answering The Road to Success® podcast question, "What are you excited about in your business right now?"
"It's truly a once in a lifetime experience…You know, I'm just thinking about it at night. If I get this truck, what am I going to do?"
To listen to the full interview with Mike Lamb, play the podcast below.
Tune into other episodes of The Road to Success® podcast by visiting our podcast channel or subscribe wherever you listen to your favorite podcasts.