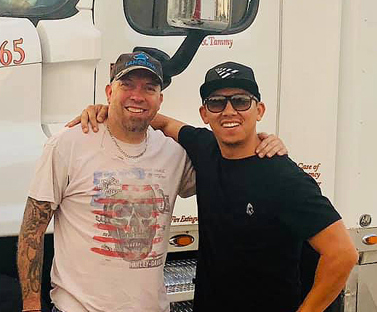 "The little things we can do to help others make a big difference," says Landstar BCO Do Kim. It's a motto Kim lives his life by, and one that recently helped Landstar BCO John Sharlow in a very big way.
As Sharlow explains it, he left his wallet at the Landstar U.S./Mexico Logistics Center in Laredo, Texas, in October – but the BCO didn't realize it was gone until hundreds of miles later, when he and his wife and team driver Tammy arrived in Houston for a delivery.
After contacting Landstar and posting the information about his lost wallet in various Facebook groups, Sharlow says, he feared the worst.
"I started cancelling my credit cards, worried that someone dishonest found my wallet. Then we started making plans to deadhead home so I could have my driver's license reissued," says Sharlow.  
Just a few hours later, Sharlow's phone rang. On the other line was Kim, who explained he'd found the wallet in Laredo and was also headed to Houston on a load.
"I lost my wallet one time and it was an awful experience. I was so glad to be able to save John that headache and deliver the wallet to him in person," says Kim.
"He saved my day, he saved us a lot of heartache and trouble," says Sharlow. After Kim delivered the wallet, Sharlow says he and Tammy made their fellow BCO coffee, a big breakfast and gave him their many, many thanks.
"Being nice to others makes you feel better," says Kim. "I follow my heart – and hope this story inspires the next person to do the right thing."
Kim's efforts were recognized with a silver Landstar Star of Quality award. Each month deserving BCOs and agents earn Landstar's Star of Quality Award for the outstanding efforts they make every day.  
If you would like to nominate a member of the Landstar network for a Star of Quality Award, please email: StarQ@Landstar.com.