How Owner-Operators are Taking Advantage of the Industry's Higher Rates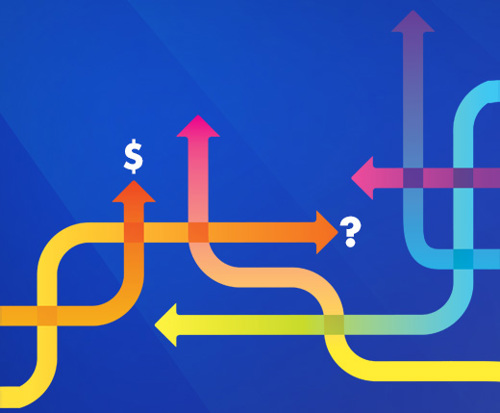 Identifying and taking advantage of the right opportunities at the right time is often a key to success in business, and the current economic climate is providing many owner-operators, including those leased to Landstar, the chance to capitalize on higher freight spot rates. We asked Landstar business capacity owners (BCOs), our term for owner-operators leased to Landstar, how they are choosing to leverage the extra cash flow in their small businesses.
Spending and Saving Wisely
Landstar BCO and One Million Miler Brian Sheesley is focused on making sound financial decisions that are not simply a knee-jerk reaction to higher spot rates. This includes paying off credit cards, paying for needed repairs including a new transmission, and putting away savings for retirement and emergencies.
"The rates go through a cycle and it's easy to want to spend when the money is coming in hot, but long-term success in this business requires having enough savings to make it through a downturn," Sheesley explains. "Guys like me who have been around for 10 years or more will tell you that these rates are not the norm, and the more you plan and save during the good times, the better off you'll be in the not-so-good times."
Sheesley's goal for when spot rates (and truck prices) drop is to have enough saved to purchase a new truck. In the meantime, he makes sure his most important asset – his 2000 Mack – is running smoothly by making necessary repairs and staying on top of preventative maintenance.
Investing in the Business
BCO David Morreau II leased on to Landstar in June 2020 after participating in a lease-purchase program with another company. Morreau states that he made the change because he could be more profitable as a small-business owner. Since becoming an independent owner-operator, he has leveraged the extra income from higher rates to invest in his business.
"I was fortunate to have placed an order for a custom-designed Freightliner with top-tier safety and fuel efficiency technology prior to the recent price hikes for new trucks, and it should be here by the end of the year," shares Morreau. "I've also looked at purchasing a new van trailer as well, but decided to hold off until prices go back down."
In the meantime, Morreau is paying down debt and maintaining his current truck with his additional revenue. He also is using his business expertise, knowledge of the trucking industry, and advice from Landstar mentors to position his business for further success.
Diversifying Equipment
Team-driver BCOs Bob and Julie Badker, who have been leased to Landstar since 2005 and 2008, respectively, are "making hay while the sun shines" by staying out on the road as much as possible. They recently purchased a flatbed trailer, which, partnered with their existing dry van trailer, has opened up new freight options for them.
According to Julie Badker, "Having our own trailers allows for more load diversity and more flexibility, which in turn brings in more money. So, in addition to paying cash for the trailer, we have been paying ahead and paying down the principal on our truck and home loans with the extra income."
The Badkers say they try to keep enough cash saved to cover at least three months of expenses, in case of emergencies. They also find ways to keep expenses low, like cooking their own meals, bulk buying supplies and taking advantage of discounts on fuel, tires and more available through Landstar Contractors' Advantage Purchasing Program (LCAPP).
Planning for Retirement
BCO Linda Little has more than 30 years of experience on the road and has leased to Landstar for the past nine years. She had a difficult time keeping her business going early in the pandemic, but she was determined not to fail and successfully pulled through. Now, with higher spot rates, she has been able to pay off the credit card debt she acquired during the downturn, has paid off her truck and trailer loans, and made necessary truck repairs.
"I'm working toward retiring in the next few years, so I recently purchased a new home with cash and have been putting money in the bank for retirement," says Little.
"For as long as the rates stay up, I'll be socking away the money."
Little says she has learned how to use the Landstar system to the best of her ability. She credits her success to being savvy about the loads she chooses, saying that the best rate is not always the highest rate. Being selective about where she goes to ensure she'll be able to pick up her next load there and not booking too far in advance to avoid potential cancellations also contribute to her success.
Staying Closer to Home
For BCO Tom Colantuono, who has leased to Landstar for more than 18 years, current spot rates are allowing him to spend more time at home. With more freight options and higher rates available, he is selective when choosing loads while maintaining a 300-mile radius around his home. This allows him to make the same amount of money as in previous years and be home more often.
"I consider things like where the load is going, and what the shippers and receivers are like to work with when choosing loads," explained Colantuono. "I've also developed relationships with a group of agents and shippers, which allows me to focus on direct freight."
Now, driving 1,500 miles is a busy week for Colantuono and he has more time for things like enjoying life with his wife and riding his motorcycle. Despite what happens in the future with spot rates, he doesn't plan on going back to the "nose to the grindstone" routine any time soon. "I really enjoy living life this way," he says.
The Road to Success Podcast
Want more insights on owning a small business? The Road to Success® podcast highlights the entrepreneurial spirit and industry knowledge of the Landstar network. Episodes feature topics and interviews geared to inspire and empower entrepreneurs to succeed in the highly competitive, technology-driven transportation industry. Listen on your favorite podcast platform or at roadtosuccess.libsyn.com.