Commercial truck driving is stressful. If you're a long-haul truck driver, you don't need research or a survey to tell you that, but there's plenty of evidence out there – like the findings published in Issues in Mental Health Nursing, a 2020 Canadian study published in the International Journal of Environmental Research and Public Health, and another report from the University of Arkansas. The research illustrates the role loneliness, fatigue, burnout, anxiety, and other emotional problems play in the overall health, well-being and happiness of professional truck drivers.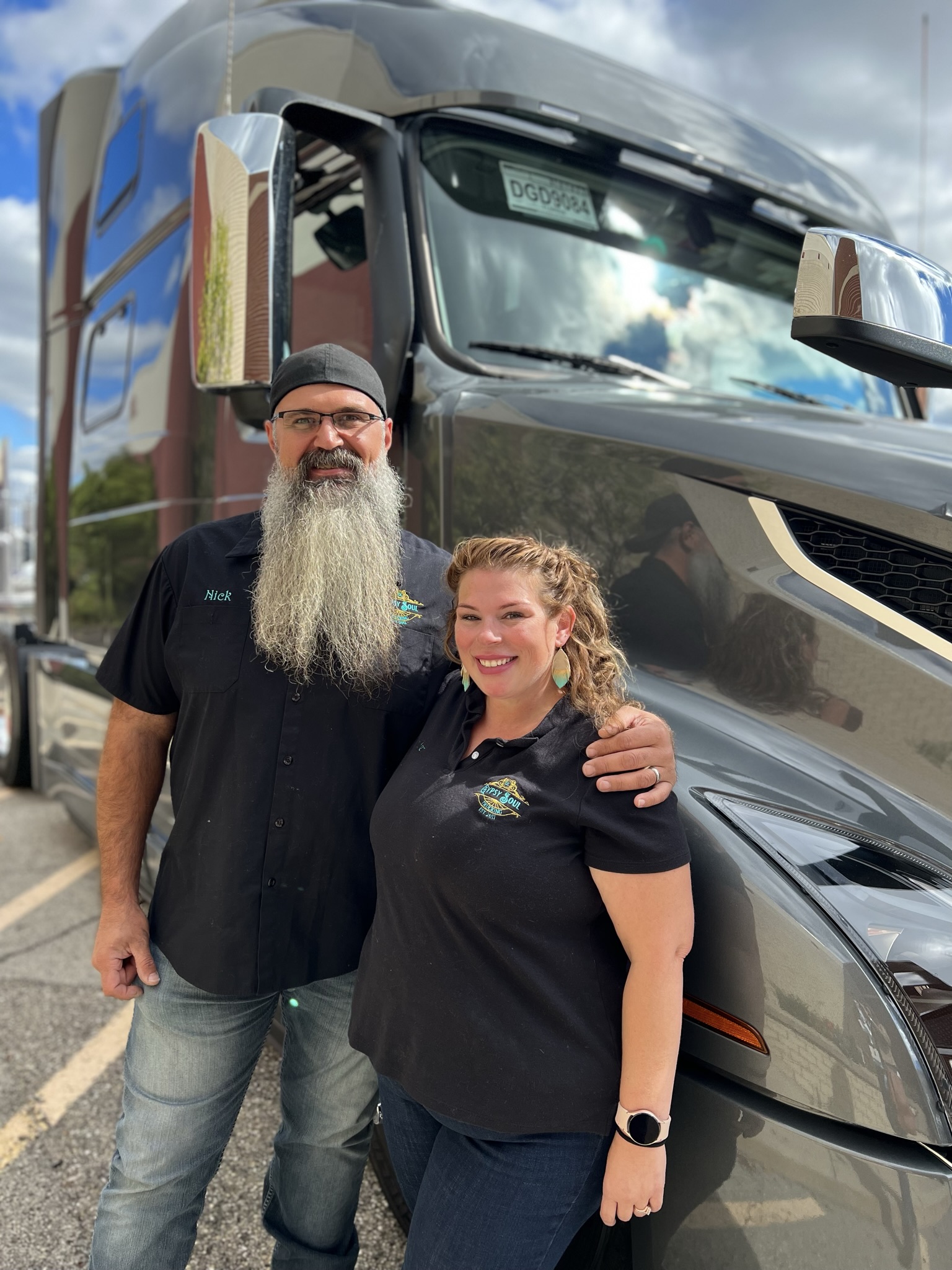 Landstar BCO and fleet owner Jenny Marcu was candid during an interview at Landstar's BCO Appreciation Days in 2022 about how challenging it was in the beginning, when she hit the road as a team driver with her husband. "Actually, it can be a struggle. I came out on the road as a 23-year-old woman. I left all my friends. I left my college environment. I left everything. And I was very isolated at first. I felt like I had no one," said Jenny. Still, she said, she knew the transition to life on the road was one she had to make. "The reason I decided to go on the road was because I was at home and he was driving. And I knew that if I didn't join him, we wouldn't be together. And here we are 14 years later."
Her choice to join her husband, Nick Marcu, was the right fit for the couple, and may be the healthy choice for others, according to recent research. A 2019 study published in the journal of Safety and Health at Work revealed that solo drivers had significantly more depression than drivers with a co-driver.
Nick and Jenny realize the importance of finding ways to socialize while on the road to prevent loneliness, depression and burnout. As fleet owners, they consider their drivers' mental health just as much as their physical health. "With us, our drivers are not just revenue producers," said Jenny. "We've had to tell our drivers to take a break – and explain that we don't want them to get burned out."
When the Marcus see that one of their drivers really needs a break, they will occasionally pay for that individual to stay at a campground. "That way," said Nick, "you can get out of the truck, get out of the whole truck stop environment, and get a chance to get out and relax."
Some other ideas for fighting loneliness:
The American Psychological Association says using email, social platforms like Facebook and online video services such as FaceTime® or Zoom can reduce feelings of loneliness in older adults.
Here are a few ideas to use technology to your advantage:
Schedule time
LastingTheDistance.com recommends scheduling time to talk to family because it sets expectations and gives you something to look forward to.
Put your game face on
A 2018 Study from Edge Hill University found that playing multiplayer online games correlated with a "stronger sense of social identity then corresponded with higher self-esteem and more social competence and lower levels of loneliness."
If you enjoy playing games online, make it a social affair. A laptop or game console like a Nintendo Switch® allows you to play games online with friends and family. This can provide a sense of normalcy and allow you to interact with friends without necessarily carrying on a continuous conversation.
Get an endorphin boost
Healthline.com reports a 30-minute walk or simple bodyweight exercises can be enough to give you an endorphin boost. You can turn this into a social activity by joining an online fitness or walking group, or connecting with friends, family or other drivers through apps like Nike Run Club® or MyFitnessPal® – maybe even start a friendly exercise competition.
Onboard your pet
If you can't drive with a team member or spouse, consider driving with a pet. Whether it be feline, canine or a feathered friend, having a pet onboard can offer drivers companionship during isolated times, and according to the Centers for Disease Control and Prevention (CDC), can lead to a healthier, happier life.
Occupy your mind
Research from the UK's National Health Services (NHS) shows learning new skills or indulging in an existing hobby can improve your mental well-being by boosting self-confidence and building a sense of purpose. Take learning on the road with mobile apps like Duolingo® to learn a new language, online courses or simply search on YouTube for free content about your new favorite topic. Find ways to make your hobbies portable by downsizing the supplies needed, or only bringing part of the project along. For example, make room for an instrument or pack a few supplies to make fish lures.
It's not loneliness alone
It's not just loneliness that can lead to depression and other mental health issues. A study from 2012 found that 21% of over-the-road drivers suffered from chronic sleep disturbances. According to HealthyTruck.org it can become a spiral – frequent lack of sleep can be a factor leading to depression, and feelings of depression can lead to lack of sleep. According to the site, "Hurried schedules, upside-down driving schedules, driving at night, and sleeping during the day can all cause problems with the natural, normal sleep cycles."
Anxiety about financial and business matters, poor diet and exercise, and reduced access to medical care are  also factors that can lead to poor mental health according to researchers.
According to the CDC, "People experiencing depression, anxiety, stress, and even post-traumatic stress disorder, over a long period of time may experience certain physiologic effects on the body, such as increased cardiac reactivity (e.g., increased heart rate and blood pressure), reduced blood flow to the heart and heightened levels of cortisol. Over time, these physiologic effects can lead to calcium buildup in the arteries, metabolic disease and heart disease." 
Prioritize Mental Health
Mental health issues and depression impact significantly more truck drivers compared to the rest of the American population. According to the National Institute of Mental Health, over 21 million American adults, representing 8.4% of the population, had at least one major depressive episode in 2020. Despite it's prevalence, depression is rarely seriously addressed. BCO Jenny Marcu believes "there's a stigma attached to mental health issues, and a lot of people don't want to acknowledge that they have a problem that can manifest in different ways."
Talking to a friend or loved one about how you are feeling can help, but there also are professional options available that fit with life on the road: TalkSpace, Cerebral and BetterHealth offer licensed therapy and psychiatry services online.
---
If you are feeling hopeless or that you are a danger to yourself or others, call or text the National Suicide Prevention Lifeline by dialing 988 from any phone. It is free and confidential.