When independent Landstar agents, fleet owners and BCOs, the company's term for owner-operators leased to Landstar, aren't busy moving freight, they often can be found giving back to their communities or supporting causes that are important to them.
Here are just a few examples of independent business owners in the Landstar network who are helping make a difference in the lives of others.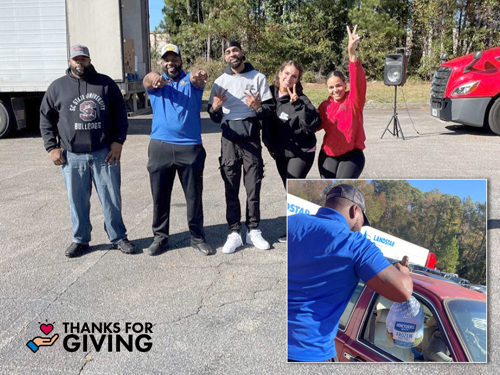 Ryan Spann, a Landstar BCO and owner of RMS Carriers, serves up Thanksgiving cheer for 100 families in his hometown.
According to Ryan, "I started my business four years ago and I'm now at a place financially where I can start giving back to my community. Being in this position is one of the ways I measure my success and I am grateful for the opportunity to help those who need it. This year, we hosted our inaugural Thanksgiving Giveaway on Nov. 19 and provided 100 frozen turkeys to 100 families in Columbia, South Carolina. We also held a job fair where people could learn more about my business and the potential job opportunities available. We had a great turnout this year and hope to be able to provide for even more families next year."
---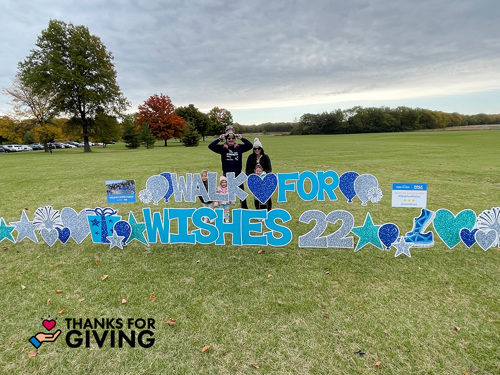 Brian Vasquez, co-agent of Par Logistics with his father, Jim, helps to provide a little magic in the lives of families experiencing childhood illness.
Brian says, "Since 2018, I've been a Wish Granter for the Make-A-Wish Foundation, which helps fulfill the wishes of children with critical illnesses. My role is to work with the child and family to plan out their wish. I have helped to grant wishes for a trip to Hawaii, a puppy, a visit to the Orlando theme parks, and I am currently working on a Disney princesses-themed experience. I'm on the board of the Illinois Walk for Wishes, which helps raise money for the Make-A-Wish foundation. I also serve as a team captain every year for the walk. We have several employees who participate on the team or make donations, and the agency also makes a donation. I've been very blessed in my life with our growing agency and healthy kids, so it was important for me to find a way to give back, and it's an honor to help families dealing with childhood illness."
---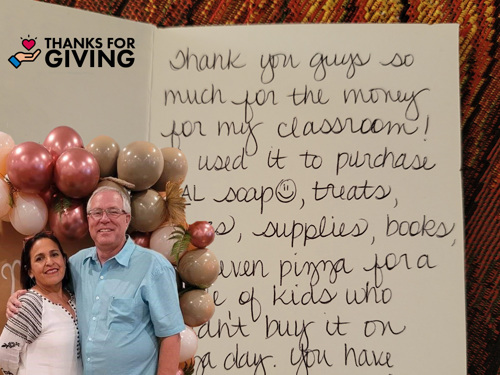 Landstar BCOs Sarah and Stan Rockwell help ensure students in their hometown have the tools for success.
Sarah shares, "We live in Tennessee in a very poor county where many children are being raised by a family member other than a parent. We believe education, especially at a very young age, is important, and no child should have to go to school without the supplies they need. So, we help by donating money to two McNairy County elementary school classes. The teachers use it to buy needed supplies – everything from pencils and notebooks, soap for the classroom, prizes, and even pizza for kids who didn't have money for pizza day. The teachers distribute the supplies to those in need without making a big deal of it, so the kids aren't singled-out for not having something. We are blessed to be able to help where we can."
---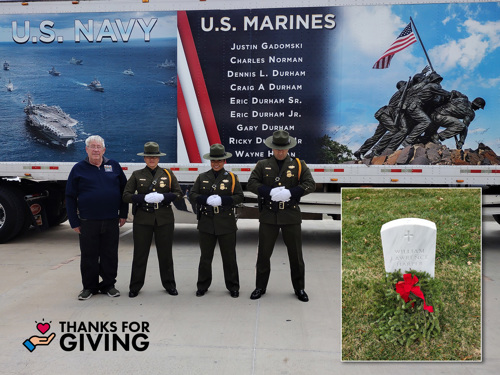 Landstar BCO Robert Mead delivers a token of gratitude at the holidays to veterans who have made the ultimate sacrifice for their country.
Robert shares, "I got involved with Wreaths Across America 10 years ago. The first year, I drove a passenger van of volunteers from Baltimore to Arlington National Cemetery for the wreath-laying ceremony there. When I saw all the trucks delivering wreaths, I decided I needed to be part of that. So for the past nine years, I've been a volunteer driver hauling wreaths from Maine to Arlington. Wreath-laying ceremonies happen all over the country, but there were none in our hometown of Laredo, Texas, so this year my wife and I have worked with Wreaths Across America and our city council to organize a ceremony for the two cemeteries with veterans in Laredo on Dec. 17, which is National Wreaths Across America Day. We've planned a processional to the cemeteries with many members of the communities involved. I served in the Navy, and between my wife's family and mine, we've had over 50 family members serve in the military since the Civil War. The cause is very important to us, as is giving back to the community."