In honor of Veterans Day, Landstar is recognizing a few of the independent business capacity owners (BCOs) who have served our country both in the armed forces and as one of the millions of truck operators who deliver America's goods.
These independent BCOs, Landstar's term for owner-operators leased to the company, shared how their experiences in the military helped them find success in their trucking careers, and why they chose to lease to Landstar.
From under the sea to over the road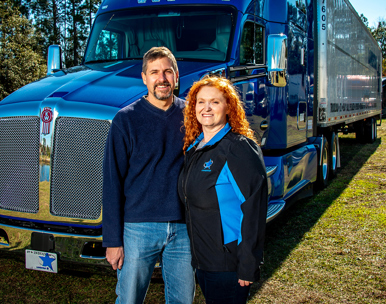 Retired Command Master Chief David Janowski enlisted in the U.S. Navy in 1990 and served for nearly 28 years, primarily stationed on submarines. After 20 years of managing mechanical systems on submarines, he transitioned to a leadership role and served as chief of the boat for submarines USS Louisiana and USS Ohio before retiring in 2008.
"When I retired from the Navy, I decided rather than working for a shipyard or something more aligned directly with my naval experience, I wanted to do something different," said Janowski. "My wife, Allison, had been driving commercial vehicles locally for a while at that point – school buses, frozen-food home delivery – so I suggested we try working as long-haul team drivers." They started as company drivers for another transportation company before purchasing their own rig and leasing to Landstar in 2018.
Janowski found his military background had prepared him for finding success in the trucking business. "In the military, after you get past the first few enlistments, you can start to drive your own career. They will let you go as high as you want to go, as long as you work hard. And it's kind of that same driving mentality at Landstar. You get out what you put in. You control your own destiny."
He continued, "If you are focused and determined, Landstar is a great company to lease to because they offer all the tools you need and provide guidance to help you get going, but ultimately you get to make all of the decisions for your business. For us, it's a perfect fit."
---
Transferring ground supply and information operations experience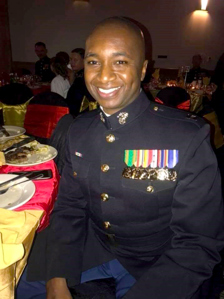 Retired Maj. Padriaca Prude enlisted in the U.S. Marines in 2004 as a machine gunner. After his first enlistment, he completed an officer program and has served as an officer in ground supply, information operations and intelligence. In 2013, he transferred from active duty to the Marine Corps Reserve and decided to pursue a career in the trucking industry with his wife, Cindy Chau.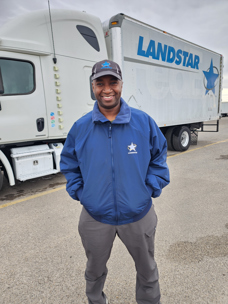 "We were empty-nesters at that point, with two children in college, so the timing was right to start a new venture," said Prude. Prior to leasing to Landstar in 2019, Prude and Chau moved expedited freight for another large transportation provider. They now focus on moving government freight for Landstar's government contracts.
"My military training has definitely helped me with planning and information management in my trucking business," said Prude. "There is a lot of information associated with moving freight, particularly with AA&E and expedited freight, like pickup and delivery windows, government regulations for specific types of freight, etc. I have to know how to prioritize and understand what's important for me, the agent and the customer to know. It's also helped me with knowing how to ask questions and manage expectations."
"I recommend leasing to Landstar to everyone who asks because it's very entrepreneurial friendly," Prude shared. "Landstar is definitely the best choice for our business because it allows us to operate at our highest potential. We've been able to increase our income over our previous job as company team drivers because we are in control and make the decisions that are best for us."
---
Travel and freedom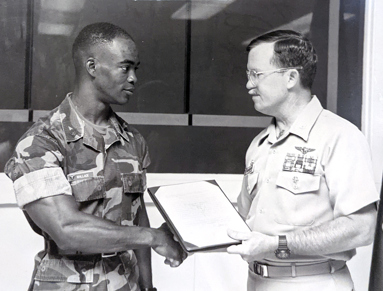 Retired Gunnery Sgt. Michael Wallace served in the U.S. Marines from 1977 to 1993. During his time, he served in the infantry battalion with deployments to Japan and Korea, achieved the rank of sergeant, served as a platoon sergeant, and did two tours as a drill instructor.
"Traveling was a huge part of my military career and when I retired I wanted to pursue a new career that still allowed me to do that," said Wallace. "As a professional truck driver, I have been able to travel all over the United States."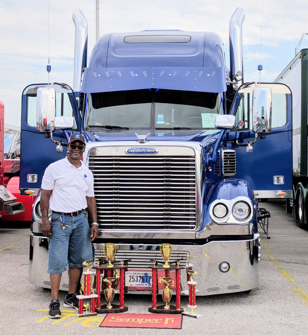 His experience in the military has helped him in his trucking career. "In the Marine Corps, I had experience working with people of different nationalities and people from different walks of life," Wallace continued. "The same is true with truck driving because you are always meeting new people and traveling to new places. The Marines also helped by instilling a sense of discipline in me, which is important when you are running your own business."
Wallace said he also appreciates the freedom leasing to Landstar affords him when running his business.