Experience Drives History
How Landstar Keeps Historic Freight Moving
No two shipments are alike and this is especially true for historic relics. Organizations with irreplaceable pieces of history should only trust a carrier with experience in moving high-value, high-security freight – which is why they call Landstar. Here are some examples of the Landstar network creating solutions to drive history.
When the United States Naval History and Heritage Command needed its World War II artifacts moved in just a few days' time from a New Jersey museum to Virginia, Landstar's government services team collaborated with one of Landstar's many independent agencies to make the Navy mission possible. Landstar's intricate plan for the museum move provided the Navy with a specific logistics management guide for specialized packing, loading and unloading, and shipping sequence of the freight, which required the use of cranes, forklifts, slings, spreader bars and hooks.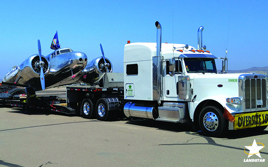 The world's last original 1935 Lockheed Electra L-10E twin engine airplane, called "Muriel," needed to be transported from El Cajon, California to the Atchison Amelia Earhart Foundation in Atchison, Kansas. The foundation had a difficult time finding a company capable of hauling the historic airplane according to its specifications – until Landstar was contacted. After planning everything from escort drivers to alternate routes if faced with inclement weather, Muriel "landed" safely at her new home.
A museum exhibit featuring artifacts from World War II prisoners of war (POWs) required careful care and coordination to transport the items to different museums across the United States. Following very specific loading guidelines, the Landstar network delivered these irreplaceable pieces of history damage free.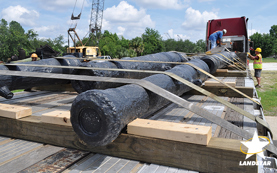 As a part of the National Park Service's multi-year preservation project, fourteen cannons from the Castillo de San Marcos in St. Augustine, Florida had to be transported to Texas A&M University. Getting all of the cannons out of the fort presented a challenge. Only three cannons could be crane lifted from the fort to a flatbed trailer and the rest were loaded on a barge to be carried up the St. Johns River to Jacksonville, Florida. The fragile freight was carefully offloaded from the barge, secured onto the flatbeds, and hauled to College Station, Texas.
The U.S. Army Corps of Engineers found Civil War-era artifacts by mistake during a dredging project to deepen the Savannah River. More than 13,000 pieces of history weighing about 142 tons were sent to Texas A&M for research. Although Landstar is well-versed in specialized project loads, these loads were especially unique because everything had to be coordinated with the U.S. Coast Guard and some of the artifacts had to be hauled within the estuary water to maintain their historical value.
The Cecil Field POW/MIA Memorial nonprofit group was familiar with the transportation services Landstar has provided to the military over the years. Knowing the level of expertise and experience those moves required, the organization leaned on Landstar to transport a Vietnam War-era combat plane into a decommissioned Navy base for a memorial in the early phases of construction.
Landstar's history of moving precious cargo repeats itself time and time again. If you want to work with a transportation provider with a reputation of safe, claim-free deliveries, click here to contact us for more information.