Finding a Place to Put it in Park
According to the American Transportation Research Institute (ATRI), truck parking continues to rank as a top issue in the trucking industry by surveyed truck drivers, as it has for several years.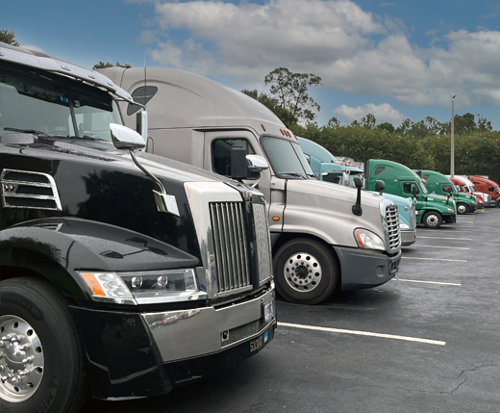 In July 2022, the U.S. House Transportation and Infrastructure Committee approved legislation designed to increase parking access for truck drivers nationwide. If passed, the Truck Parking Safety Improvement Act will provide $755 million in competitive grants over four years (2023-2026) to expand truck parking capacity.
In the meantime, truck operators must find places to park and rest. How do owner-operators leased to Landstar find available truck parking? Here's what a few Landstar independent business capacity owners (BCOs) had to say:
"I always plan my trips at an average speed of 50 mph so I can account for any unforeseen situations and still plan for parking availability. If I know I'm going into a major metropolitan area, I always reserve a spot ahead of time because booking further out can lower the cost of the spot."
-Landstar BCO David Morreau
"It depends on the region I'm in or going to, and the time I'll be arriving. For example, if I'm going to Houston and it's before 3 p.m., I'll usually stop at a TA/Petro before I get too close to the city to ensure I have a spot free of charge. Otherwise, I'll pay to reserve a parking spot, which is a cost of business."
-Landstar BCO Matt Cutler
"I use a truck parking mobile app as a tool to help me find the closest truck stop and available parking in unfamiliar areas."
-Landstar BCO Ralph Hall
"I always say, early to bed and early to rise will get you a parking space before the other guys!"
-Landstar BCO Bill Ater